Kirk Sexton, known online as ambientenergy101, is an American independent video game developer and programmer. Sexton is a freelancer and the owner of Wrong Dojo, his video game studio. Kirk Sexton is based out of Spokane, Washington.
Sexton is currently working full time as a programmer on the Brackenwood video game Dashkin alongside Adam Phillips.
Involvement with Brackenwood Edit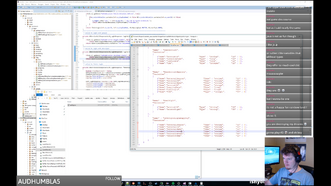 Adam Phillips and Kirk Sexton worked briefly together at EA2D Bioware in San Diego, California, however they didn't spend much time together and barely knew one another. As Phillips returned to Australia, he stayed in touch with Sexton, and once Phillips' game project
Dashkin
fell through, he spoke to Sexton about collaborating on a new iteration of the game. As of 2017 Kirk Sexton has been working full time as a programmer on
Dashkin
, code-named "Project Quicksand" while Phillips works on the art assets. Sexton sometimes streams while he is coding for the game on his Twitch account.
External links
Edit